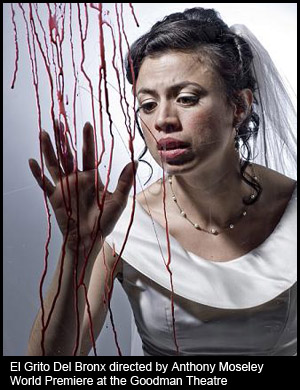 These excerpts can only be performed or reprinted with the written permission of the Author: Migdalia Cruz or Author's agent: Ms. Peregrine Whittlesey.
Another Part of the House is a re-imagining of Federico Garcia Lorca's "La Casa De Bernarda Alba." It is a play of political and sexual repression and the tragedy that it creates in a family of women in mourning. In it, I follow Garcia-Lorca's plot but write all the things I imagine between the lines of his play. I try to say all that he could not say for fear of fascist repercussions, homophobia, misogyny while endeavoring to maintain the integrity of his work.
:: Act 1 (opening)
:: Act 3 (excerpt)
Cigarettes and Moby Dick is the story of Miranda, an assimilated Nuyorican who's moved to Manhattan from the Bronx to forge a new identity as a downtown hipster.  She meets Lila, an Eastern European lesbian, falls in love and pretends not to with three sailors named John.  Lila escapes her pain through vodka and hallucinations of a post-feminist Marilyn Monroe. Miranda escapes Lila with her "Johns". Written in the style of a "plovel" where narrative and dramatic writing co-exist on stage.
:: Act 1 Chapter 1
:: Act 1 Chapter 10
Fur is the story of Citrona, a hirsute young woman who is purchased by Michael at  a sideshow to be his bride.  Michael has a fetish for animals and runs a pet shop in post-apocalyptic Los Angeles which has become a giant sand pit.  He hires Nena, an animal trapper to catch and bring food to the caged Citrona. But Citrona falls in love with Nena who's in love with Michael. A tragi-comic triangular retelling of the Beauty & the Beast where the beast wins.
:: Act 1 Scene 4
:: Act 1 Scene 7
El Grito del Bronx is the story of Lulu, a poet,  & Papo, her incarcerated brother. It is about how their fractured search for home has led one to marriage and the other to death. A play filled with memories and  ghosts—violence and love, it 's a story ultimately about how the darkest rage can lead to redemption.
:: Act 1 Scene 9
:: Act 2 Scene 5
Miriam's Flowers is the story of 16 year-old Miriam and how the accidental death of her 7 year-old brother, Puli, plunges her and their mother, Delfina and step-father, Nando,  into a dark journey of self-mutilation & sexual awakening that leads to a spiritual redemption—where the lifeless bleed and statues of Saints heal.
:: Act 1 Scene 6
:: Act 1 Scene 10
Salt is an adaptation of John Ford's "Tis Pity She's a Whore" that tells the story of a reluctant messiah named Rocket who tries to drown out the prayers of those who need him by listening to disco music. But the prayers of Belen, a 13 year-old girl who is forced to prostitute herself, breaks through and Rocket is forced to help her and her family find salvation.
:: Act 1 Scene 4
:: Act 2 Scene 9